Carnegie Libraries of Scotland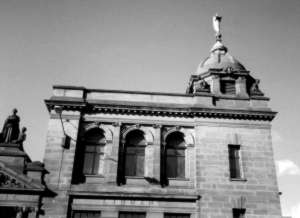 Welcome to this exploration of the architecture and history of Scotland's Carnegie Libraries.
If you are interested in libraries and old buildings you'll find plenty here to appeal to you. There are pictures and descriptions of libraries from all over Scotland, from the Orkney Islands in the far north all the way to the English border in the south.

There are bits and pieces of Carnegie memorabilia scattered throughout the site, and items showing Andrew Carnegie's affinity with the land of his birth.
Scotland was the place were the very first Carnegie libraries in the world were established. The libraries at Dunfermline and Grangemouth were built before he began his American benefactions in Pennsylvania and elsewhere.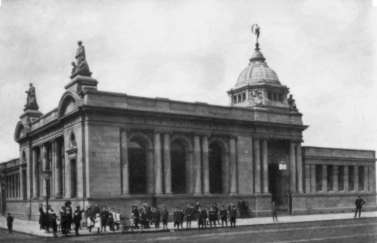 The architects of the libraries designed many beautiful buildings in the various forms that were in vogue in Scotland at the turn of the last century, mostly borrowing from historical themes, which are thoroughly explored here.
The Edwardian era in Scotland was a great period of elegance and there are library buildings of all styles, shapes and sizes to be discovered and enjoyed in the various pages of this site.

---
The table below shows the local authorities (Burgh &amp Parish Councils) assisted by Andrew Carnegie in providing lending libraries for their communities. As a condition to funding, these councils had to adopt the Public Libraries Acts, which were applied in Scotland from 1853.
Some authorities such as Glasgow and Dundee built many libraries with their donations while others, such as Edinburgh and most of the smaller councils, had just a single Carnegie library.
Scottish Local Authorities assisted by Andrew Carnegie in providing public libraries
Authority(A-F)
Authority(G-W)
Aberdeen
Airdrie
Annan
Arbroath
Ayr
Banff
Bellie
Bo'ness
Bonnyrigg
Burntisland
Castle Douglas
Clydebank
Coatbridge
Corstorphine
Cromarty
Dingwall
Dornoch
Drumoak
Dumbarton
Dumfries
Dundee
Dunfermline
Dyce
Edinburgh
Elgin
Falkirk
Fraserburgh



Glasgow
Grangemouth
Greenock
Hamilton
Hawick
Innerleithen
Inverness
Inverurie
Jedburgh
Kelso
Kinross
Kirkwall
Larbert
Lockerbie
Lossiemouth
Maybole
Montrose
Motherwell
Peterhead
Prestonpans
Rutherglen
Stirling
Stornaway
Tain
Tarves
Thurso
Torryburn
West Calder
Wick

---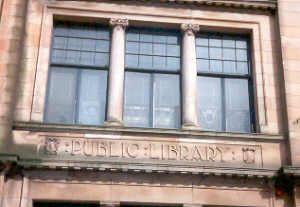 The Carnegie libraries of Scotland were mostly constructed in stone, usually locally quarried, which was ideally suited for the monumental compositions adopted by the various architects.

At the beginning of the century the old fashioned stonemasons' skills were still available throughout Scotland for embellishing new buildings with statues, columns and other ornamentation.
Fortunately this artistry can still be seen, as most of the libraries are still standing, although a few fell victim to the misguided urban redevelopments of the 1960's.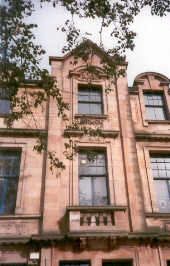 The solid stone Scottish Carnegie libraries have more in common with those in the United States than with those in England or Ireland, where brick was the everyday building material and freestone was used only for the most prestigious buildings, which often excluded libraries. The brick libraries erected in other parts of the British Isles did not generally have the same level of external decoration as in Scotland, where sculpting in sandstone was the norm for public buildings.
My drawings of the libraries feature in most of the pages on this web site, to illustrate the various styles of architecture used. There are a few examples below.

---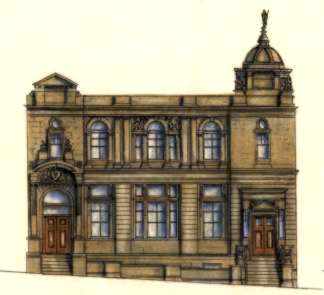 Influenced by contintental Europe, Scotland has many Renaissance and Baroque libraries, which have pages dedicated to them. The Baroque libraries show an extravagant use of columns domes and statues. This style was made popular by the Inverness architect, James. R. Rhind, who came from a large architectural family whose works can be seen in both Scotland and Canada.
Rhind's libraries are regarded as some of the best examples of Baroque architecture in Scotland. All of them are remarkably well preserved, given they are mostly situated in neighbourhoods were the surrounding tenement houses have disappeared.
---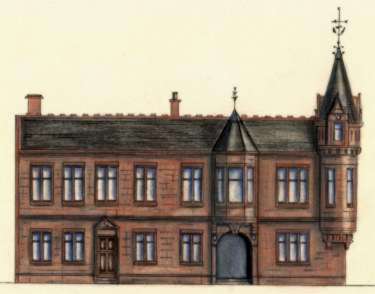 Further away from the mainstream, there are uniquely distinctive buildings where the architecture is more akin to castles in the Highlands, and libraries which look more like French châteaux rather than Scottish public buildings. You can even get designs that are a combination of both!
---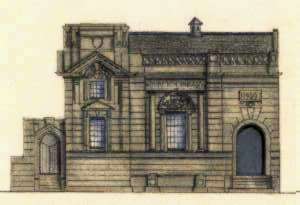 There are also pages looking at distinctively Scottish styles of architecture which are free of the elaborate pediments, columns, domes and statues which were characteristic of the continental designs.
---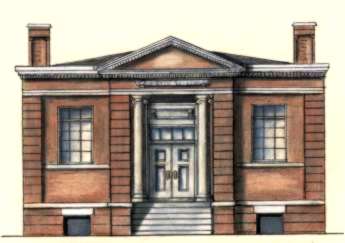 I have also included a feature comparing and contrasting the Carnegie libraries of Scotland with those built in the United States. There are a number of parallels, the most interesting being New York City and Glasgow, which were the ports used when the Carnegie family emigrated to America. Both these great cities were given their library systems in 1901 by Scotland's most successful emigrant. They were also the largest city library systems in each country.
---