Knockderry Castle
Cove
Dunbartonshire

15th May,1901


My Dear Lord Provost,

It will give me pleasure to provide the needed one hundred thousand pounds for Branch Libraries, which are sure to provide a great advantage to the masses of the people. It is just fifty-two years since my parents, with their two little boys, sailed from the Broomielaw for New York an the barque Wiscassett, 800 tons, and it is delightful to be able to commemorate the event upon my visit to you.

Glasgow has done so much in municipal affairs to educate other cities and to help herself that it is a privilege to help her.


"Let Glasgow flourish!", so say we all of us Scotsmen throughout the world.



Always yours


Andrew Carnegie
The letter shows that Carnegie still had a sentimental attachment to the city. The reference in the letter to the "Broomielaw" is referring to the docks in Glasgow. "Let Glasgow Flourish" is the city's motto.

On 12th March 1901, just two months before his letter to Sir Samuel Chisholm, Carnegie had sent a similar letter to John Shaw Billings, the Director of the New York Public Library.
Both letters were written after he had sold his share in the Carnegie Steel Company in early 1901, and became the world's richest man.
---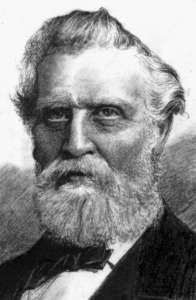 Sir Samuel Chisholm, whose formidable countenance is featured left, had become Glasgow's Lord Provost in November 1899.

Before becoming Lord Provost, Chisholm had been behind Glasgow's application to Parliament, on 2nd June 1898, for a special Act to ensure benefits for Glasgow Corporation that went beyond the older Libraries Acts.
Following an earlier meeting to decide on this proposal, the Glasgow Herald of 7th September 1897 praised Chisholm as a person who "had initiated and carried out vast schemes for the benefit of the city".
The Council was successful in its bid and the "Glasgow Corporation (Tramways Libraries etc.) Act" received Royal Assent on 1st August 1899. This occurred with perfect timing for building the new libraries which were proposed soon after Sir Samuel received the above letter from Andrew Carnegie.

---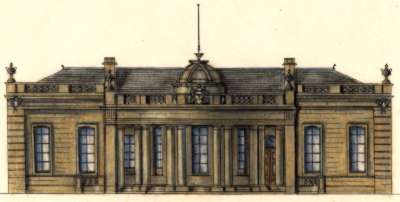 Elder Park Library, Govan.
Elder Park Library is the only surviving Glasgow branch library which pre-dates the Carnegie Libraries. Paradoxically it is also the only local suburban library which Andrew Carnegie is recorded as ever visiting.
The renowned architect, John J. Burnet , deftly designed it to fit into its setting within Elder Park, which, along with the library, was donated to the burgh of Govan by Mrs Isabella Elder, the widow of John Elder.
The Beaux-Arts style charmingly displays the continental influences of Burnet's Paris training. There are numerous columns along the curved façade creating an unusual visual effect. The Govan coat of arms tops the balustrade, above which sits a well proportioned dome. Because of the intricacy of the design, Mrs Elder's bequest of £25,000 had to be increased to £27,000 to complete the building.
The library was opened on 5th September 1903 by Andrew Carnegie, who never visited any of the subsequent libraries he funded in the city, which would be opened by local dignitaries.
---
Andrew Carnegie's personal bookplate.
These were pasted into the front of the books kept in his own library. The bookplate contains Carnegie's motto, "Let there be light" which also features in many of his libraries, either carved into the stonework or contained in decorative windows.
He was a voracious reader throughout his life, having been self-educated after only 3 years of formal schooling. Ornate bookplates were the custom in Carnegie's time, in order to identify the ownership of books.
The bookplate was given to me by Derrick Barclay, the curator of the Andrew Carnegie Birthplace Museum, Dunfermline
---
Plaque at entrance to Stirling Central Library
The plaque commerated the Carnegie's visit to Stirling in 1902, when Andrew Carnegie received a ceremonial freedom of the burgh.
The plaque reads "This memorial stone was laid on 11th Ocober 1902, by Mrs Carnegie, wife of Andrew Carnegie Esq. LL.D, of Skibo, the donor of this building."
Carnegie attended many such ceremonies when he was living at his Scottish home at Skibo.
---
Andrew Carnegie Lifeline
1835
25th November:


Born in Dunfermline, Fife, Scotland.
Elder son of William Carnegie and Margaret Morrison.


1848
17th May:
Carnegie family leaves Glasgow for New York on S.V.Wiscasset.
5th July:
Arrived in New York City, en route to Allegheny, Pennsylvania.
1856
22nd May:

His first share deal with Adams Express (forerunner to American Express); he continues working and investing.
1867
<

He lives permanently in New York to be nearer to his business interests.
1881

Triumphal return to Dunfermline as successful emigrant. Mother lays foundation stone of world's first Carnegie library.
1887
22nd April:

At age of 51, following the death of his mother the previous November, Andrew Carnegie marries Louise Whitfield (aged 28).
1889

Publishes concept of "excess wealth" in 2 essays in June & December editions of North American Review.
1892
1st July:


Carnegie Steel Company formed with Carnegie's shareholding worth $14million. Workforce denied the right to belong to a trade union.
5th/6th July:

While Carnegie is in Aberdeen, Scotland, opening new library, Homestead riot occurs, leaving 10 dead.
1893
Spring:

Carnegie returns to the USA for the first time since the Homestead incident.
November:

First Carnegie Library opens with no link to his origins in Scotland or Pennsylvania - at Fairfield, Iowa, USA.
1901
<


Sells his share in Carnegie Steel Co. and becomes the world's richest man. Begins giving away his fortune including world-wide donations for libraries.
12th March:
Letter to New York City offering to fund branch libraries.
15th May:
Letter to Glasgow offering to fund branch libraries.
1908
29th August:

Second letter to Glasgow offering additional funds to complete scheme of branch libraries.
1919
11th August:


Andrew Carnegie dies in Lenox Massachusetts and is buried at Sleepy Hollow, New York.


---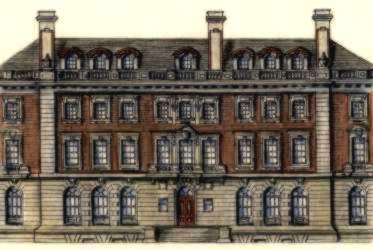 Carnegie's Mansion, New York City
Although he spent much of his later years in Scotland, Andrew Carnegie still maintained a mansion in New York City.
His house, illustrated above, is situated at the corner of 91st Street and Fifth Avenue. The mansion has been home to the Cooper-Hewitt National Design Museum since 1967.
---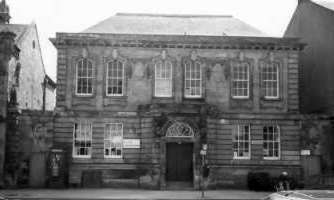 Andrew Carnegie's fondness for Fife and the area round his Dunfermline birthplace was shown when receiving the freedom of the nearby burgh of Burntisland on 18th September 1907, after having officially opened the new pubic library (left). He stated that "the freedom of Burntisland is most gratefully accepted as a voice from home. Upon rare occasions, when a boy, I was taken to Burntisland, which was the utmost edge of my travels." He went on to say that the honour "will mean much more than a similar honour from much larger but more distant places." He could not have been talking about Scotland's largest city, Glasgow, where he had laid the foundation stone for the new Mitchell Library the previous day, and went on to pay the city lavish compliments!

---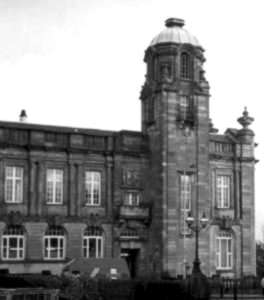 Another library personally opened by Andrew Carnegie was in Hamilton Lanarkshire, which he visited on 17th September 1907, the same day as his trip to Glasgow, which is featured in my 'Inside the Libraries in 1907' page.
The Central Library in Hamilton is situated at the eastern end of the elaborately designed Town Hall, which was built in stages between 1906 and 1914. The Baroque inspired building has a very long symmetrical frontage with highly decorated towers at either end.
The architect, Alexander Cullen, died in 1911 and did not see the completion of the Town Hall which was officially opened by King George V on 9th July 1914, a month before the outbreak of the First World War. The fact that the King was in Hamilton on such relatively trivial business, rather than in London, provides evidence that the outbreak of the war and it's dreadful consequences was not anticipated.

---
Bronze plaque at Arthurstone Library, Dundee.
After Glasgow, the Scottish city with the most Carnegie libraries is Dundee, which has five.
The plaque above is at Arthurstone Library in the north east of the city, which was the first to be built from Carnegie's gift of £37,000 in September 1901. The top of the plaque is decorated in art-nouveau motifs which would have been ultra-modern at the time.
The plaque reads " Dundee Public Libraries. This branch library was erected with a sum of £6800 presented to the citizens by Andrew Carnegie LLD. Opened 10th February 1905." The library had been officially opened by Carnegie in person.
On his third visit to the city, on 12th September 1911, to open the Central Reading Room and Ward Road Library, Andrew Carnegie was presented with a volume containing water colour sketches of his four earlier libraries which he had visited that morning. In his acceptance speech, Carnegie prophetically observed that he had no doubt that future generations would say "well, well, there were men and there were cities in that day that did pretty well". The libraries illustrated in this web site show how right he was!
---