Landmarks of Literacy Exhibition
At the Glasgow Room of the Mitchell Library
The exhibition had its origin as part of "Glasgow, U.K. City of Architecture and Design 1999". It was then expanded to highlight the architectural history of the world's earliest Carnegie libraries, which were situated in Andrew Carnegie's birthplace in Dunfermline, and other nearby towns on the Firth of Forth including Edinburgh, Grangemouth and Stirling.

Bookmark issued by Mitchell Library for Glasgow UK city of Architecture 1999.
The exhibition also had items comparing and contrasting the styles used in the United States and Scotland for their libraries built in the same era. The Scottish libraries vary in form from the Baroque extravagance of some of Glasgow's libraries, through the universally popular neo-classical, to the intricacies of Scots Baronial architecture.
I was delighted with the response the exhibition received in the visitors' books, with many of the comments coming from England and the United States.
---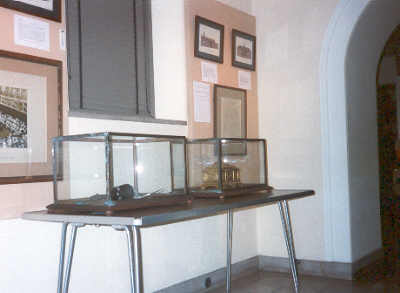 At the Andrew Carnegie Birthplace Museum, Dunfermline.
The exhibition moved on to the Andrew Carnegie Birthplace Museum where ,as in Glasgow, they displayed library memorabilia from their own collection. The cases shown in the photograph contained a casket and ceremonial trowel presented to Andrew Carnegie at opening ceremonies of the new libraries.
I have dedicated a web page to my great-grandfather John Blaikie, who was a Carnegie Hero in 1911.
When the exhibition was showing at the museum, the page of the illuminated Roll of Honour where John Blaikie's name appears was displayed, surrounded by my library drawings.

---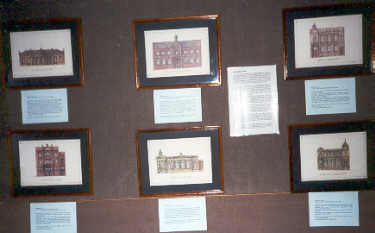 At Langside Library

Both the library portraits and the period photographs were mounted in dark varnished frames when displayed.
The table below gives a full inventory of the items which featured in the exhibition, many of which have since been donated to the libraries concerned.
Landmarks of Literacy: Scotland's Carnegie Libraries
Inventory
1. 32 library portraits, mounted & framed in dark varnished 14"x11" (355 x 280mm) frames.
32 caption cards, for above - mostly A5, occasionally A4.


2. 7 black and white photographs of Library interiors c1907, mounted and framed in dark varnished 10" x 12" (255 x 305mm) frames.
7 caption cards for above -A5.


3. 6 photographs in various sized frames featuring:
Andrew Carnegie and his family.
Dunfermline Central Library c. 1906.
Carnegie Bust at Edinburgh Central Library .
Plaque commemerating official opening of Stirling Library.
6 caption cards for above - A5.


4. Andrew Carnegie's personal bookplate, framed.
(Gift from Carnegie Birthplace Museum Dunfermline)
Caption card - A5.


5. Framed facsimile of letter from Andrew Carnegie to Glasgow's Lord Provost offering to fund libraries.
Caption card - A5.


6. A4 cards (unmounted) featuring:
a) Introduction to exhibition.
b) Gerald Blaikie "vitae".
c) My great-grandfather's Carnegie Hero Fund award of 1911.
d) Photograph of Carnegie Hero Fund Medallion.
e) Andrew Carnegie Lifeline.
f) William Ewart, originator of Public Libraries Act.
g) Table of Scottish towns with Carnegie Libraries.
h) Catalogue of the Carnegie Libraries of Glasgow.
i) James R Rhind, Architect.


---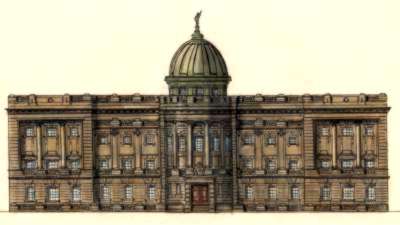 Mitchell Library, Glasgow
Opened 16th October 1911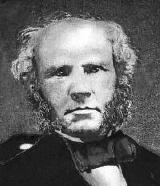 The Mitchell Library, where my exhibition was shown in 1999, is the largest municipal reference library in Western Europe. Andrew Carnegie's association with the library however was not a financial one. He laid the memorial foundation stone at a ceremony on 17th September 1907, four years before the building's completion. The library was the result of a bequest in May 1874 from Mr. Stephen Mitchell (left), who had manufactured tobacco products in the city. This benefaction was to be used to establish a public library in Glasgow "chiefly for the purposes of reference and consultation". It was housed in buildings in Ingram Street and Miller Street until the present building was opened.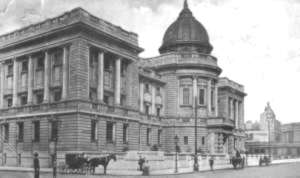 The design competition attracted nearly 70 entries. The winning architect, William. B. Whitie, produced plans for a building in a restrained Baroque style for this city showpiece. Whitie would have known that this kind of architecture was admired by both the City Librarian, Francis. T. Barrett and the City Engineer, A. B. McDonald, who had overseen the design competitions for the earlier branch libraries.
The library was formally opened by Lord Rosebery on 16th October 1911.
---